Ingredients:
Magne B6 UK – 2 tablets include magnesium 200mg (53%), vitamin B6 4 mg (286%) *.
* RWS – Reference Value Consumption
Administration:
Recommended intake: Adults: 1-2 tablets a day.
Take special care when:
– This formulation is not intended for children under 6 years and weighing less than 20 kg;
– For patients with moderate renal impairment caution, it is recommended to avoid high concentrations of magnesium in the blood;
– In case of urinary infections, they should be healed before starting the Magne B6 cure
Cautions:
Do not take Magne B6 UK:
– If you are allergic (hypersensitive) to magnesium lactate dihydrate, pyridoxine hydrochloride or any of the other components of the Magne B6;
– if you have a severe renal impairment (impaired kidney function);
– If you are taking Levodopa (medicine for the treatment of Parkinson's disease).
Advices
If symptoms do not improve after a month of treatment, consult your GP.

About Magne B6 UK
Some of these symptoms may indicate a magnesium deficiency:
– nervousness, irritability, anxiety, mild, transient fatigue, sleep disorders minor;
– manifestations of anxiety such as digestive spasms or palpitations (subjects without heart disease);
– muscle cramps, tingling.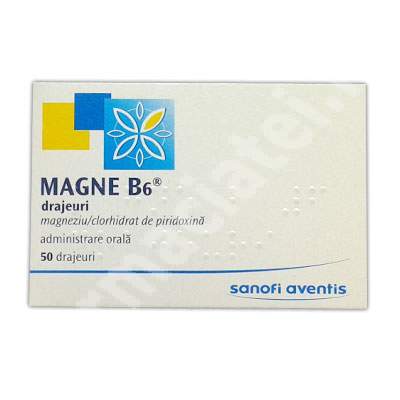 EU manufactured and labelled according to UK laws. Please check if you have allergies to any of the composites of the product and consult your GP if you think it may interfere with any of the medical treatments you are following. The photos are for presentation purposes only.
Please only take this product after consulting with your doctor. Read more about the Terms and Conditions used by our company for distributing it.