Antioxidants, Immunity, Active Lifestyle, Detox&Diet, Heart Health, Alkalising, Women's Health, Skin, Hair&nails, Bones, Brain, Digestion, Detox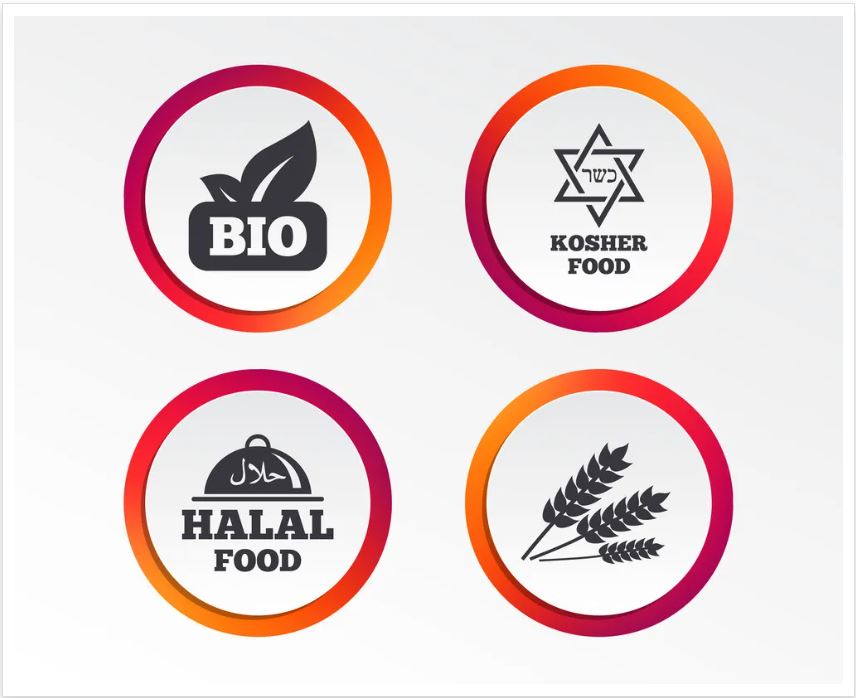 Jump To Romanian Translation
Multi-Mushroom Organic Complex is an organic blend of Maitake, Reishi, Shiitake, Lion's Mane and Chaga, in addition to astragalus root, acerola fruit and black pepper – all delivered conveniently in one capsule. It provides important vitamins (such as C) plus active components not typically found in plants.
This special complex offers a range of benefits, including bolstering the immune system, improving cognitive function and mental well-being, providing energy, enhancing digestion, reducing inflammation, shielding from oxidative stress and contributing to overall wellness.
This food supplement has been certified organic by the Soil Association, ensuring no toxic pesticides or fertilisers have been used. The "clean" product thus ensures its bio-availability and makes sure the mushrooms remain nutrient-dense. Non-organic ingredients would otherwise diminish their nutrients.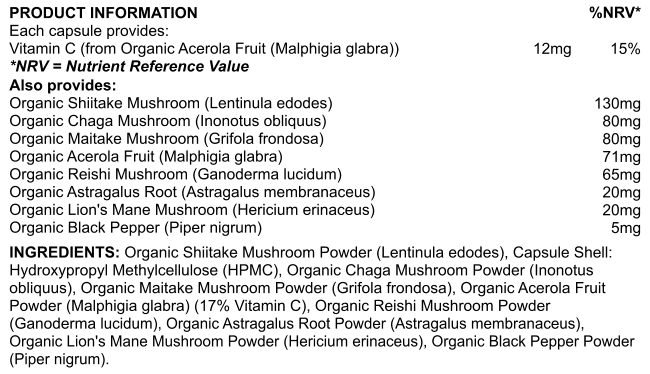 Ingredients
Maitake mushroom
The Maitake mushroom is a unique, edible mushroom commonly found in parts of Japan, North America, and Europe. It has a distinctive flavour and texture that make it a popular choice for recipes. This type of mushroom also has many health benefits due to its high levels of vitamins and minerals.
Maitake has a long history, stretching over two millennia, as a Chinese tonic and adaptogen. It can assist the body in dealing with daily stressors, plus those associated with chronic fatigue. Moreover, this herb is thought to restore balance within the body, along with its use for immunity, regulating blood pressure and normalizing cholesterol and glucose levels. It also contains beta-glucans and polysaccharides that provide additional benefits.
Reishi mushroom
Reishi mushroom has many advantages, and chief among them are its high levels of powerful beta-glucans. This makes it an ideal choice for managing inflammation and boosting the immune system. It does this by working on histamine pathways, helping to modulate the body's response and handling of immune signals. Consequently, Reishi also aids in keeping respiratory health in good condition.
Shiitake mushroom
Shiitake are a type of mushroom renowned for its umami, or meaty flavour. It is widely used in East Asian cuisine and is highly prized for its unique flavour.
Shiitake mushrooms have a long history, with over 1000 years of use in Japan and South East Asia as medicinal fungi. Benefits include reduced cholesterol levels and the production of interferon–natural proteins that inhibit virus replication. They are one of the most cultivated varieties, boasting nutritious elements such as copper, selenium and pantothenic acid. Above all, shiitakes contain lentinan – a powerful beta-glucan!
Lion's Mane mushroom
Lion's Mane, also known as the "mountain priest" mushroom, has been shown to benefit the immune system and gut health. It can reduce inflammation and protect against tissue damage in the intestines – all helping to improve digestion. Nature's ultimate brain food, it may aid learning, memory, focus and concentration by stimulating the production of nerve growth factors.
Chaga mushroom
For centuries, Chaga has been used to support the immune system, promote overall well-being and reduce inflammation. Furthermore, its antioxidant and anti-inflammatory capabilities fight oxidative stress in the body. This makes it a great health tonic and detoxifier.
Astragalus root has been used for centuries in traditional Chinese medicine. It is known for its medicinal qualities and has been used for centuries as a remedy for numerous ailments.
Acerola fruit is a type of fruit that is native to Central and South America. It's often referred to as the Barbados Cherry or West Indies Cherry, but it's not actually related to cherries at all. The acerola fruit is small but packs a great deal of flavour.
Black pepper is an incredibly popular spice. It has been around since antiquity, and it is widely utilized in dishes from all over the world. The flavour of pepper can range from mild to extremely spicy, depending on the variety being used.
Vitamin C aids in keeping the immune system functioning properly. It also aids with collagen formation, which is essential for the normal performance of blood vessels, bones, gums, cartilage, skin, and teeth. Additionally, it helps with energy-yielding metabolism, brain functioning, psychological health, cell protection from oxidative stress and the regeneration of vitamin E in its reduced form; in addition to increasing iron absorption and reducing tiredness and fatigue.
Take 1 capsule 1 to 3 times per day or as advised.
https://www.dropshipwebhosting.co.uk/trade-data/info-sheets/Immunity-Spectrum-Fact-Sheet.pdf
Naturemedies Multi Mushroom Imuno Boost 90 caps Vitamina C din Ciuperci crescute organic – Made in UK
Complexul Organic Multi-Mushroom este un amestec organic de Maitake, Reishi, Shiitake, Coama Leului și Chaga, pe lângă rădăcina de astragalus, fructul de acerola și piper negru – toate livrate convenabil într-o singură capsulă.
Oferă vitamine importante (cum ar fi C) plus componente active care nu se găsesc de obicei în plante.
Acest complex special oferă o serie de beneficii, inclusiv întărirea sistemului imunitar, îmbunătățirea funcției cognitive și a bunăstării mentale, furnizarea de energie, îmbunătățirea digestiei, reducerea inflamației, protejarea de stresul oxidativ și contribuția la starea generală de bine.
Acest supliment alimentar a fost certificat organic de către Soil Association, asigurându-se că nu au fost folosite pesticide sau îngrășăminte toxice. Produsul "curat" îi asigură astfel biodisponibilitatea și ne asigurăm că ciupercile rămân bogate în nutrienți.
Ingredientele non-organice și-ar diminua, altfel, nutrienții.
Ciuperca Maitake
Ciuperca Maitake este o ciupercă unică, comestibilă, care se găsește în mod obișnuit în unele părți din Japonia, America de Nord și Europa. Are o aromă și o textură distinctivă care o fac o alegere populară pentru rețete. Acest tip de ciupercă are, de asemenea, multe beneficii pentru sănătate datorită nivelului ridicat de vitamine și minerale.
Maitake are o istorie lungă, care se întinde pe două milenii, ca tonic și adaptogen chinezesc. Poate ajuta organismul să facă față factorilor de stres zilnic, plus cei asociați cu oboseala cronică. Mai mult, se crede că această plantă restabili echilibrul în organism, împreună cu utilizarea sa pentru imunitate, reglează tensiunea arterială și normalizează nivelul de colesterol și glucoză. De asemenea, conține beta-glucani și polizaharide care oferă beneficii suplimentare.
Ciupercă Reishi
Ciuperca Reishi are multe avantaje, iar principalele dintre ele sunt nivelurile sale ridicate de beta-glucani puternici. Acest lucru îl face o alegere ideală pentru gestionarea inflamației și întărirea sistemului imunitar. Face acest lucru lucrând pe căile histaminei, ajutând la modularea răspunsului organismului și la manipularea semnalelor imune. În consecință, Reishi ajută și la menținerea sănătății respiratorii în stare bună.
Ciuperca Shiitake
Shiitake este un tip de ciupercă renumit pentru umami sau aroma de carne. Este folosit pe scară largă în bucătăria din Asia de Est și este foarte apreciat pentru aroma sa unică.
Ciupercile Shiitake au o istorie lungă, cu peste 1000 de ani de utilizare în Japonia și Asia de Sud-Est ca ciuperci medicinale. Beneficiile includ reducerea nivelului de colesterol și producerea de interferon – proteine naturale care inhibă replicarea virusului. Sunt una dintre cele mai cultivate soiuri, cu elemente nutritive precum cuprul, seleniul și acidul pantotenic. Mai presus de toate, shiitake-urile conțin lentinan – un puternic beta-glucan!
Ciuperca coama de leu
Coama leului, cunoscută și sub numele de ciuperca "preot de munte", s-a dovedit că aduce beneficii sistemului imunitar și sănătății intestinale. Poate reduce inflamația și poate proteja împotriva leziunilor tisulare din intestine – toate ajutând la îmbunătățirea digestiei. Hrana supremă pentru creier a naturii, poate ajuta la învățare, memorie, concentrare și concentrare prin stimularea producției de factori de creștere a nervilor.
Ciuperca Chaga
Timp de secole, Chaga a fost folosit pentru a susține sistemul imunitar, pentru a promova bunăstarea generală și pentru a reduce inflamația. În plus, capacitățile sale antioxidante și antiinflamatorii luptă împotriva stresului oxidativ asupra organismului. Acest lucru îl face un tonic și detoxifiant excelent pentru sănătate.
Rădăcina de astragalus a fost folosită de secole în medicina tradițională chineză. Este cunoscut pentru calitățile sale medicinale și a fost folosit de secole ca remediu pentru numeroase afecțiuni.
Fructul Acerola este un tip de fruct care este originar din America Centrală și de Sud. Este adesea denumită cireșul Barbados sau cireșul Indiilor de Vest, dar nu este deloc legat de cireșe. Fructul acerola este mic, dar are multă aromă.
Piperul negru este un condiment incredibil de popular. Există încă din antichitate și este utilizat pe scară largă în mâncăruri din toată lumea. Aroma de ardei poate varia de la ușoară la extrem de picant, în funcție de soiul folosit.
Vitamina C ajută la menținerea funcționării corecte a sistemului imunitar. De asemenea, ajută la formarea colagenului, care este esențială pentru funcționarea normală a vaselor de sânge, oaselor, gingiilor, cartilajelor, pielii și dinților. În plus, ajută la metabolismul energetic, la funcționarea creierului, la sănătatea psihologică, la protecția celulelor împotriva stresului oxidativ și la regenerarea vitaminei E în forma sa redusă; pe langa cresterea absorbtiei fierului si reducerea oboselii si oboselii.
Luați 1 capsulă de 1 până la 3 ori pe zi sau conform recomandărilor.
Multi Mushroom Imuno Boost is an organic mushroom immunity blend with Maitake, Reishi, Shiitake, Lion's Mane, Chaga PLUS astragalus root, acerola fruit and black pepper – all in one convenient capsule, providing important nutrients (such as vitamin C) and active ingredients that are not found in other plants.